How to invest in the stock market? Last year, I don't have one single idea about the stock market except it is a game of money and if you're good at it you become rich! And if you suck, you lose big time too.
Well, that is if you trade in the stock market. You see, there is a big difference between trading and investing in the stock market. This is one BIG lesson I learned by being a member of the Truly Rich Club.
As a
TrulyRichClub Gold
member

,
we get support to grow both financially and spiritually.
Gold Members are provided with the right tools, principles, and strategies to grow in their financial and spiritual life.
It's for people who are serious in changing their beliefs and thinking—to gain the abundance mentality they need to change their lives forever.
An example of the tools we receive is just like the 'Stocks Update' I am sharing here below. Monthly, Mr. Bo sends this report to guide his group in keeping our investment safe and continuously growing (that is if you choose to invest in the stock market).
----- Forwarded Message ----
From:

Bo Sanchez Members
To:

Marianne Silloriquez



Subject:

StocksUpdate: I Hope You Bought...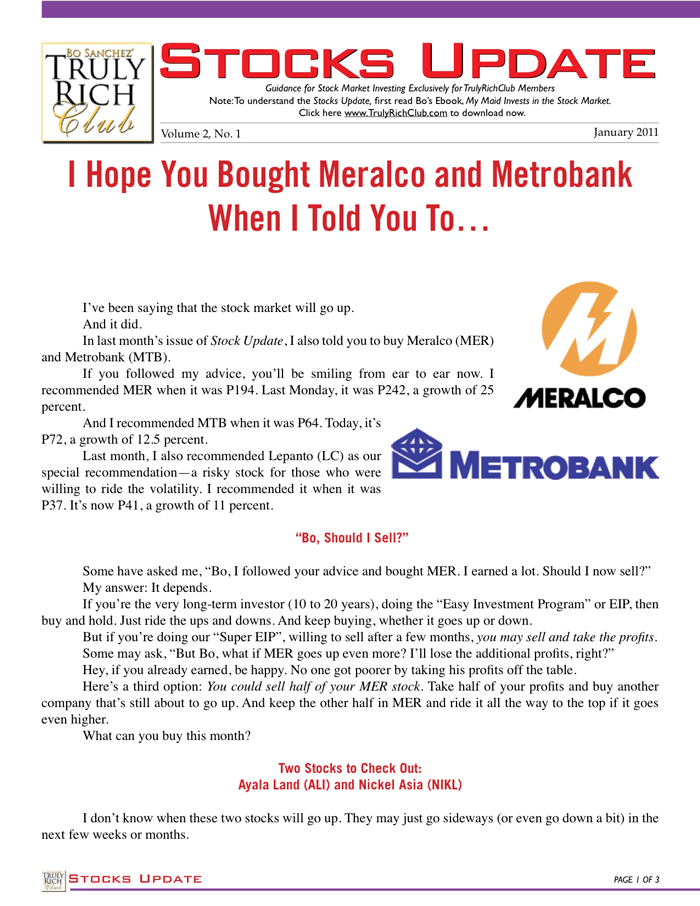 (the complete report is available to the
Truly Rich Club
members)